5 Stand canceled for Sunday, October 29th due to weather.
 Nominations and voting of board members with terms expiring at the end of 2017 will be at the November 13th board meeting. All members are welcome to participate.
Announcement: 5 Stand will be the last Sunday of the month weather permitting.
If  you are interested in shooting 5 Stand please sign up here
We need a minimum of 10 shooters to sign up to hold the event.
If you have questions about 5 stand shooting please  contact Steve  by clicking here.
Championship scores and photos
Pictures from  5 Stand shoot Sunday, August 27th.
Event Winners from Robert Ferrance shoot.
1st place  Mick Markel   score 93     $30.00 field and stream gift card
2nd place  Duane Mock score 89      $25.00 field and stream gift card
3rd place Tracy Burton  score 86      $20.00  field and stream gift card
Long bird competition Shane Benson score  9/10   $25.00 field and stream gift card
If you have not already received your gift you may pick it up at September's sporting clays event or email Tom to make arrangements to pick it up.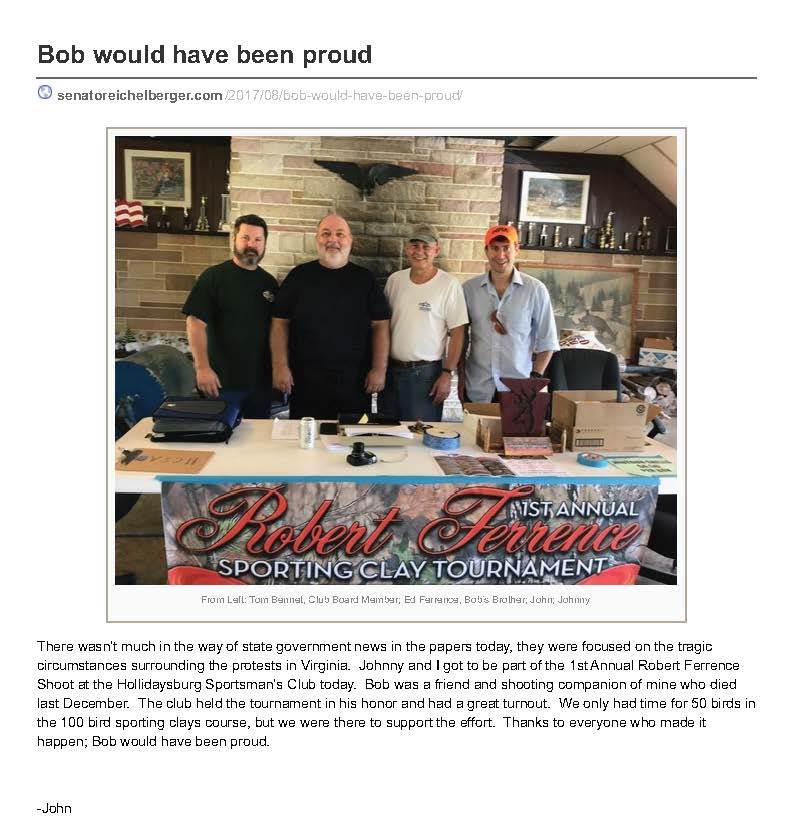 Monthly Events!
1st Saturday, USPSA
2nd Saturday, Cowboy Action Shooting!
 2nd Sunday, Sporting Clays!
3rd Saturday, IDPA
Sporting Clays Dates for 2017.
 Thanks to all who were able to help on clean-up days!
Enjoy the great video Christine made.
Effectively Immediately!
Positively no pistol or rifle shooting on any skeet or trap field except field #2 unless it is a scheduled / sanctioned event. All pistol and rifle shooting on field #2 must be from within the block wall area on field.
We are happy to have helped Wounded Heroes Hunting Camp. Click here to read a letter from WHHC.
Steel plates protecting electrical boxes on the skeet ranges are NOT targets.  
Anyone desiring to use the trap house can contact the caretaker 24 hours in advance to arrange access.
When leaving payment for trap/skeet please put your name on the envelope.
A true Blast from the past!