Starting Wednesday, September 27th Skeet fields 2 & 3, along with Pits 1-3 will be closed in preparation of the Annual Steel Shoot.
Announcement: 5 Stand will be the last Sunday of the month weather permitting.
Championship scores and photos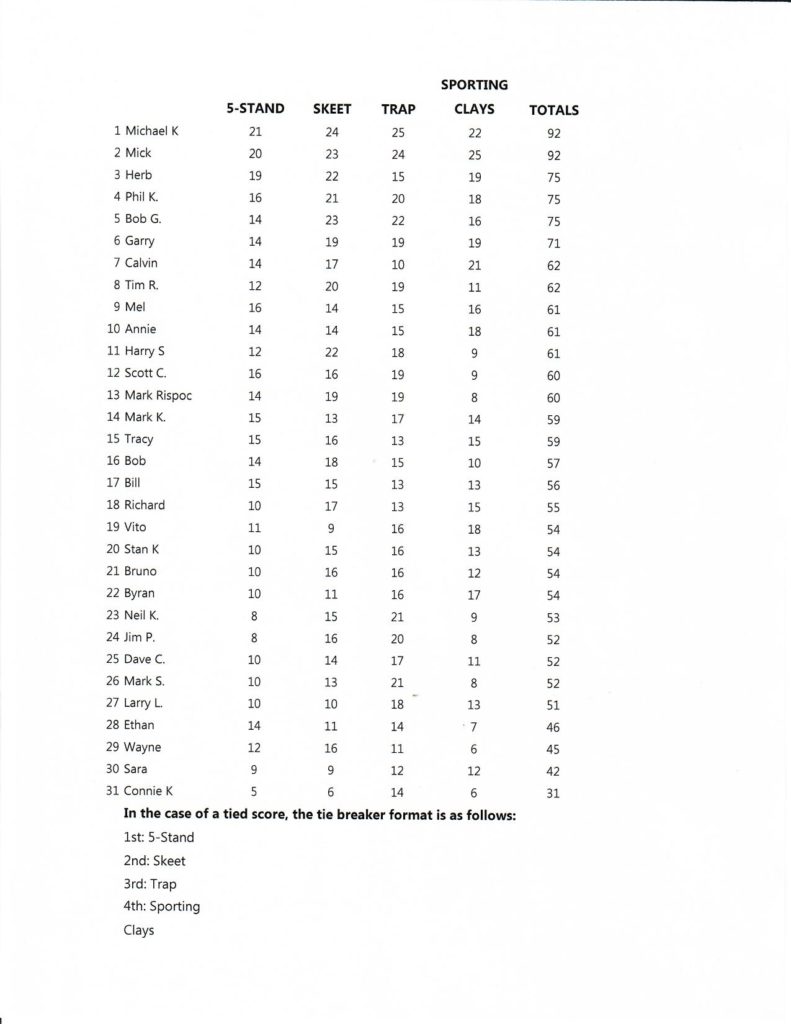 We are looking for volunteers for the Annual Steel Shoot on September 30th. Contact Corey here.
2017 Steel Shoot
Shooters,
Hollidaysburg Sportsmen's Club will be hosting our annual steel shoot on September 30, 2017.
All the details are listed below.  I would suggest you register quick as this match fills fast.
Here is the link to register: 2017 STEEL SHOOT
I am also looking for staff members for this match.
Thanks!
Corey
Registration will open at 8 am in the clubhouse, shooting will start at 9am for the morning and 1 pm for the afternoon.  Same day registration will be available ONLY if there is room.  Pre-registration is highly suggested.
Cost is $35 per entry.  You may enter both sessions in different divisions.
Prizes are cash payouts!  50% pay back using Lewis class scoring.
Safety Rules are the same as before.  You must have some way to secure your pistol between stages. Bag, Box, Holster, ect. There will be safe gun handling tables to allow you to handle your gun or holster up prior to the match, please make use of them. No ammunition at the safe gun handling tables, and do not handle your gun at the car. If you are shooting your carry gun, there is a covered pistol range on the right hand side on your way into the range, directly across from our indoor range. Please stop there and unload your gun. Once you step out of your car at the club house parking lot you will be on a cold range. Absolutely no loaded firearms by competitors unless under the direct supervision of a range officer.
There will be five divisions this year.  Open Auto – 30 round magazines + 1 in the chamber to start.  Stock Auto will remain 10 rounds per magazine, +1 in the chamber to start. Stock Revolver – will be 8 in the cylinder to start. Open Revolver won't change, simply because I have no clue what constitutes an open revolver class, and nobody complained last year.  New this year is Pistol Caliber Carbine (PCC) – I am still working on the rules for this division.
All steel must fall to score. The only exception will be the plates that slide down on the poles. They will be painted in between each shooter, and if a bullet impact is visible it will be counted for score. You are required to call your own hits, the r/o's will not call them for you.
The match will again be lost brass to help keep everything moving smoothly.
Lunch will be available for sale in the club house, as well as drinks and snacks.  We will be selling sandwiches with sides for around $10.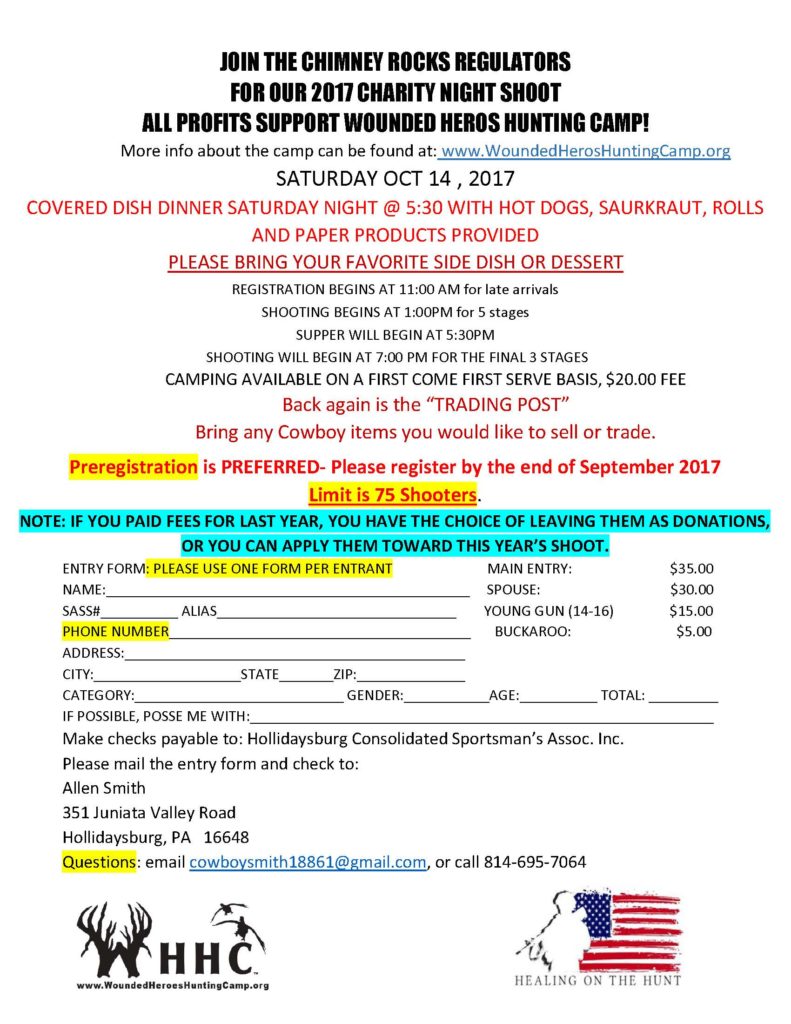 Click here for a printable copy of the registration form.
Pictures from  5 Stand shoot Sunday, August 27th.
Event Winners from Robert Ferrance shoot.
1st place  Mick Markel   score 93     $30.00 field and stream gift card
2nd place  Duane Mock score 89      $25.00 field and stream gift card
3rd place Tracy Burton  score 86      $20.00  field and stream gift card
Long bird competition Shane Benson score  9/10   $25.00 field and stream gift card
If you have not already received your gift you may pick it up at September's sporting clays event or email Tom to make arrangements to pick it up.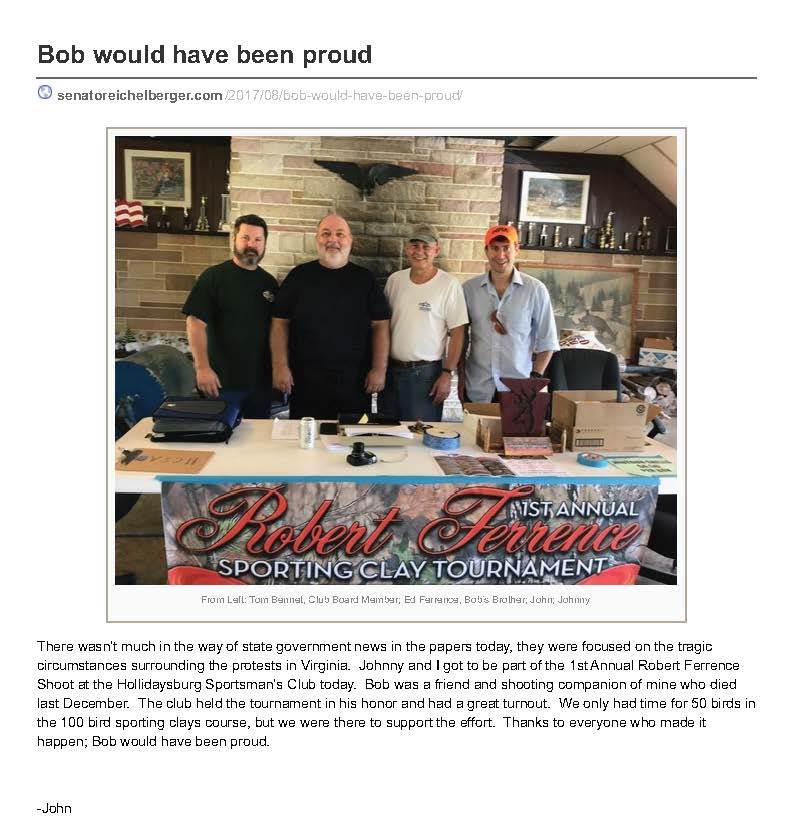 Monthly Events!
1st Saturday, USPSA
2nd Saturday, Cowboy Action Shooting!
 2nd Sunday, Sporting Clays!
3rd Saturday, IDPA
Sporting Clays Dates for 2017.
 Thanks to all who were able to help on clean-up days!
Enjoy the great video Christine made.
Effectively Immediately!
Positively no pistol or rifle shooting on any skeet or trap field except field #2 unless it is a scheduled / sanctioned event. All pistol and rifle shooting on field #2 must be from within the block wall area on field.
If anyone is interested  in 5 stand shooting please  contact Steve Toth by clicking here.
We are happy to have helped Wounded Heroes Hunting Camp. Click here to read a letter from WHHC.
Steel plates protecting electrical boxes on the skeet ranges are NOT targets.  
Anyone desiring to use the trap house can contact the caretaker 24 hours in advance to arrange access.
When leaving payment for trap/skeet please put your name on the envelope.
A true Blast from the past!